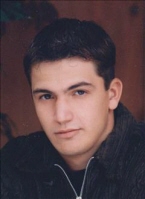 Obituary for Eddy Dean Middleton
Funeral service for Eddy Middleton Jr., 37, of Fletcher, Oklahoma, will be held 11:00 a.m. Saturday, April 8, 2017, at the Fletcher Christian Church with Pastor J.O. Howard and Pastor Donnie Miller, officiating. Burial will follow at the Fletcher Cemetery under the direction of the Fletcher Funeral Home.

Mr. Middleton passed away on Tuesday, April 4, 2017 in Binger, Oklahoma at the age of 37.

Eddy Dean Middleton Jr. was born July 19, 1979 in Lawton, Oklahoma to Eddy Dean Sr. and Alecia (Bennett) Middleton. He attended Fletcher Schools for 13 years and graduated in 1998. He worked at Halliburton and recently was working with Patco. Eddy had a great personality and sense of humor. He loved cars, racing, and was a gifted mechanic. He practically grew up in a shop and on the racetrack with his Dad and Papaw. He was driving his own go-cart by the age of 3 that his Dad modified so he could reach the pedals. He began racing Sprint Cars at the age of 9. He was dearly loved and will be missed by so many, especially his family.

He is survived by the loves of his life, his "little girls", Mallery Dawn and Maybree Grace Middleton; the mother of his children, Charity Middleton; his parents: Eddy Sr. and Alecia Middleton; his sister, Sandi Middleton; his nephew, Braxton Blakley; and his grandmother, Betty Middleton.

He was preceded in death by his grandparents: Carol and Mary Bennett and Arthur Middleton.

In lieu of flowers, memorial contributions can be made to The Wounded Warrior Project or the charity of your choice.